Welcome to Arrowhead Honda
100% Online Experience
Shop Our
Express Store
Instant Pricing - No Hassle - Build Your Deal Online

Our Reviews
Searcher all over AZ for the vehicle I wanted. Found it at Arrowhead Honda. Wonderful car buying experience.
Respectful service department! Albert S. Best Mechanic!!!
The service advisor, mechanics and customer service people were fantastic. They gave me a loaner vehicle while I was waiting for mine to be taken care of, and they kept me informed every step of the way on repairs and Etc of my vehicle.
Too expensive but good service and treatment of the customer
Just bought my newest car here and had a great experience. Anthony was great about giving me options to choose from in my price range and Jeffrey helped me manage all the paperwork quickly and easily.
Went to have my vehicle looked at, as a bit of my splash guard was hanging from underneath my car. I called to get an appointment with the service department here. Everyone was extremely helpful and had great customer care. Alex at the express service area- got it taken care of, in no time! I am grateful for their support in getting me back on the road without hearing that awful scraping noise! Thank you so much!
What a great dealership. Besides our dealings with Lynnwood Honda in WA. # 2 in our book. From the first contact(Alex) to tge service advisor. Wonderful waiting room . Donuts ,coffee,lemonade ice water. Just about everything was top shelf. Definitely a return fir service + buy a new passport when they get one.
Great service and friendly service people
The ...best experience! Awesome customer service!.. the" BEST"
I had the most positive experience today and that was all thanks to Robert Pitman. If your looking to buy a vehicle here look no further Robert is your man. Very humble down to earth man who genuinely cares about you and helping you get the best deal. I will be recommending him to all my family and friends in Phoenix. The car market can be tough right now especially with the shortage. Heck I'm from Utah and flew down to Arizona just to be able to get the vehicle I wanted for the right price. If your truly looking for a car please don't hesitate to ask for Robert when you get there. You won't regret it.
I can't even begin to say how thankful I am for the service I received. I came to Arrowhead Honda to see if they could cut two keys for me. The first person I spoke to was Dan Thomas. He told me it would be $80 to cut and program the keys. I was fine with that. While I was waiting, Dan came to me and informed me my car wouldn't start and they found a piece on that battery was worn down/broken. Before I could even get a word out, he told me that he had the part on the way and he would fix it. He didn't charge me for the repair work, or the keys. It wasn't about getting everything at no charge., it was about how well I was treated while I was there. Other people working in the service department were also very kind. I would definitely recommend Arrowhead Honda to anyone who asks for a referral.
Ann Perna, in parts, is positively fantastic! She's knowledgeable, friendly, patient, and thorough. She has provided me with so much help and education. She should be recognized for her outstanding service!!!
Thanks for all your help.
Excellent service, very knowledgeable service person (Steve). Snacks and beverages in customer waiting areas. Compared to other local Honda dealerships, diagnosis, completed repairs, and wash all in record time.
I believe the staff was wonderful and helpful with details about the different cars they had in stock at the time.
He was nice, friendly, and knowledgeable
I buy my cars through online communication and Kirk/Arrowhead Honda was very nice to work with. They were quick on replies, no games trying to trick me and gave me the information I need. As crazy as it sounds, there are many dealerships that don't do that. I will not be buying a car from them this round since their prices are relatively egregious (which I am not surprised, dealers are giving odd pricing right now - some high and some low; craziness in the Supply Chain) but I do suggest trying this dealership; they may be more competitive on a different model than I will be purchasing. I will try them again on a future car (assuming it's a Honda) and maybe on servicing my current Honda if I don't sell it in the next few months.
Seth in service department was great
As always, Robert was fantastic. We had a few issues with our 2013 Fit that needed attention. He was able to diagnose what was needed, what could wait, and find a way to fit repairs into our budget. Rob is honest and easy to work with, two qualities that are necessary but difficult to find nowadays. I know I can trust him and the team at Arrowhead to provide the best service at the best price. Thanks again Robert for such good service!
Came to Honda Arrowhead for the first Time and what a great Experience! Noah was very helpful, had to get an oil change, but says they had no record of my appointment but he still worked me in and provided me a shuttle home so I didn't have to wait! Would recommend Honda Arrowhead. And there services
I worked with Roxanne Underwood, and I recommend you do too. Roxanne made the process smooth during this tough time purchasing vehicles. Friendly and easy going and got me in and out with no back and forth and hassle. If you would like to purchase I would recommend going to Roxanne. Thanks again for all your help! -Dora
Very friendly,helpful and honest people work here. Both in sales and service. My preferred Honda dealership.
I have been using Bell Honda for seven years and six Hondas. I didn't realize various service centers are different. When I called Bell Honda to service my car I kept getting transferred overseas to schedule that appointment. After being transferred twice in a row I called the arrowhead location since it's close to my new office and I immediately got a local person who is actually at their location, they were super friendly, got me scheduled for the next day. When I showed up the waiting lounge was ten times nicer with each chair having your own power source and charging station and they actually had danishes and a hot cocoa or coffee machine. All things that Bell Honda has stopped doing due to "covid". After looking at my car they also did not try to sell me anything additional outside of the typical filters. When you go to Bell Honda they try to sell you all sorts of additional coverages. Overall experience was considerably better than I've had at Bell Honda. I absolutely am switching both of my Honda's to Arrowhead!
Great vehicles selection, friendly and easy to work with staff, and very nice-clean facility.
When I first moved to Arizona, I had the very fortunate pleasure meeting Steve when I went to Honda for my flat tire. With my very tight schedule working at the hospital he made my experience as painless as possible, answered all my questions, remained so patient pleasant professional, and worked efficiently. He really made my transition into this new state so pleasant. When I returned to Honda for another service I immediately asked for him because of how much I enjoy working with him. Such excellent customer service and efficient work ethic!

Serving Arizona For Over
24 Years!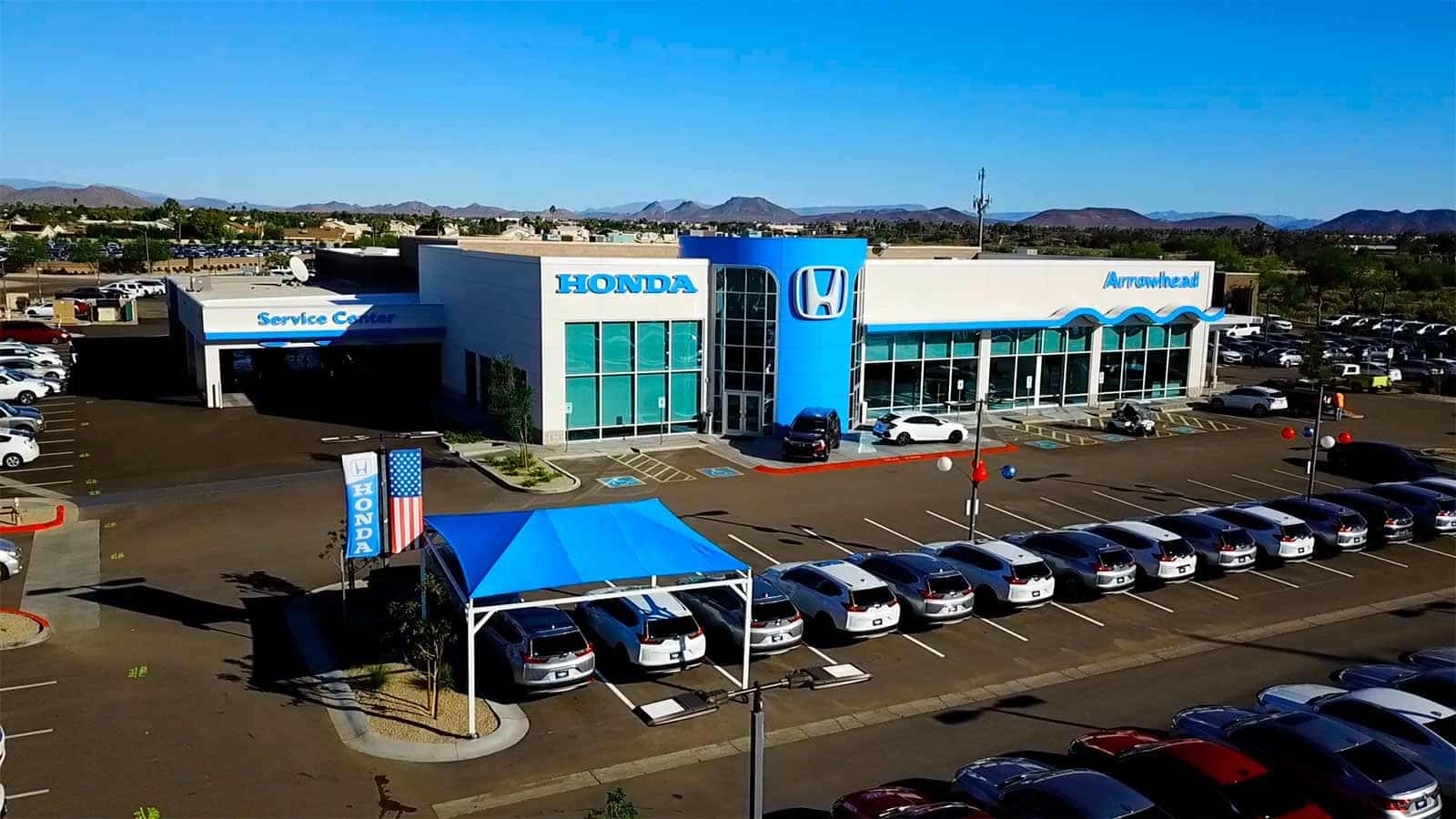 Welcome to Arrowhead Honda
In our showroom, you will find the complete lineup of new Honda vehicles. There are options for every driver, each backed by Honda's reputation for quality and reliability. We also have an extensive inventory of used vehicles that are carefully inspected for quality and priced to help you save thousands. Buying the one you want is easy thanks to our accommodating financing process. If all you need is official Honda parts and accessories, we can also help with that, too.
Make your way to Arrowhead Honda in Peoria today for quality vehicles, a friendly team, and professional service at every step of the way. And if you have any questions for us, you can always get in touch at .
Get Directions To Arrowhead Honda