Welcome to Arrowhead Honda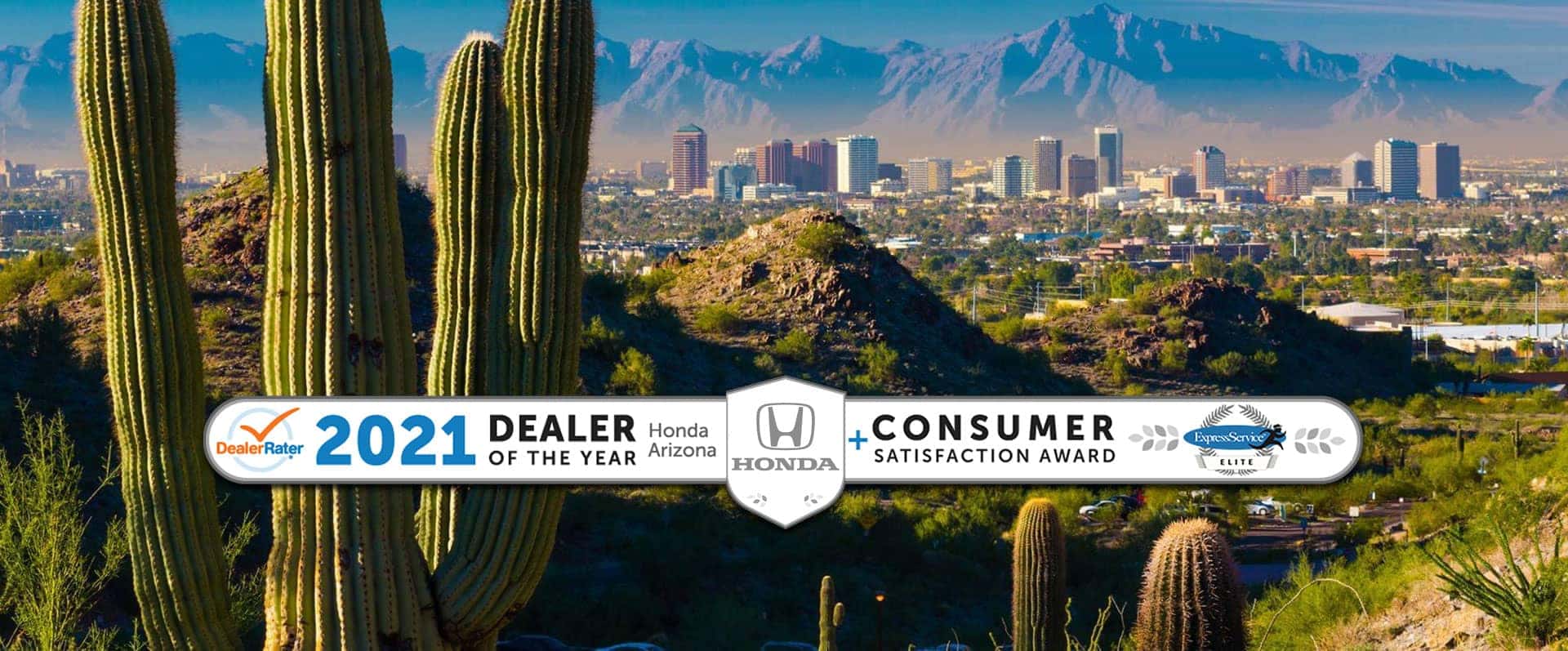 Our Reviews
Jordan and Jeffery were super helpful. I appreciate them going above and beyond with getting me in a new car. It was an easy transaction and Jordan was very informative about everything.
Great Customer Service, very thorough explanation of work performed and provides options when options are available
Arrowhead Honda keeps my buggy rollin' down the road. Always professional. Always thorough. Always polite. I use the reminders on my dash to keep up on my maintenance. I'm a life-long backyard mechanic who knows when to let the big dog run. These four wheels have gotten so, so far advanced that I'd not dare touch that engine. It is no longer a car, it is a computer with a few mechanical parts. Love it! Now...about my backswing?
Derek is your go-to guy in the service department he has been over backwards to help me. Honest and straightforward
Service was awesome ask for Dan!
I dropped my car off Thursday morning for an ac check that should be under warranty. After reading some reviews I was very hesitant but Steve in the service area changed that quick. He came up to me letting me know of all of the possibilities and then after I left called me updating me through my process and I was able to pick my car up Friday morning with the AC working like when I first got it, and a nice car wash! This process was easy and quick and I appreciate that. If needed I will be back thanks to Steve !
Calvin was kind enough to give us his time and test drive a few cars even though we told him we wouldn't be able to buy something today. He answered all of our questions, and was very personable. Thanks Calvin and arrowhead Honda!
Great service department... went there to get a oil change and it was reasonably priced and they we're quick and thorough.. only took 55 minutes..I will always go back...
Dan Thomas has been an exceptional Service Manager. I have had the pleasure of working with him for quite a few years and he has been consistently professional, considerate, warm, and is a gentleman. He is stellar in his job and knows Honda vehicles well. I am so grateful to have Dan as my go-to person at this dealership. He is the best.
I have been to the service department several times and each time my experience there gets better, the service manager Tom Urbina has always been very honest and I truly appreciate the speed and attention to detail on everything that I.have had done to my car. I will definitely be back if any of my cars fail again! Thanks again to the entire service department!!!
Amazing staff and great service!!!!
Simply the Best Customer Service
Steve is who I work with to get our car service. He is always willing to listen to our vehicle needs. We appreciate all that he has done n continues to do. Thank you!!
Excellent, helpful employees. Neat. Clean Auto Center. Quick service.
I visited Arrowhead Honda last week right when it opened and it was so busy. As I was waiting for my service advisor I saw something that caught my attention. I saw a service advisor Divac take charge over the Bay area as customers came in and waited. I saw him greet everyone even tho they were being taken care of or they just arrived. If people asked for someone else he made sure they weren't being ignored. I have to say Divac showed amazing customer service!! This is why I will continue to come here because people like him. I hope the GM of Arrowhead gives kudos to Mr. Divac Aodisho! Keep up the amazing customer service Divac!
I want to say a special thanks to Randy for helping me out today with my car key issue. My car steering wheel got locked and my car was parked at Circle K. I didn't know what was wrong with my car and how I would fix the issue. I went to Honda dealership. Randy was so kind and so helpful and went over all the possible options to get my key issue solved. He did not make me feel rushed, neither tried to sale expensive parts. He gave me reasonable options to start with. I was able to start my car and made home safely. I called him twice to ask few questions about ordering a new key for future and he went above and beyond to answer all of my questions. Thank you Randy for making my worst day into a great day. Appreciate your help a lot. :)
The service department is amazing! I called at 4pm today (Saturday) about a grinding noise when turning right and they had me come right down and got it fixed within 10 minutes.
I was thinking of trading in my Jeep for a while now and wasn't ever the right time. I have been working hard on credit and promotion at work. Then decided to try again and filled out applications on line and worked with Dino no pressure and amazing experience thank you for restoring my faith in car dealerships again !!!
I would give ten stars if I could. I am still alive because of Dan in the service department. I was in AZ from Central coast California, taking care of my uncle in the hospital so I was alone, in a different state with a possible car problem. I called Honda and he said they could take a look. The battery light was on and he explained that the alternator was probably going out. The weather was in the peak of the record breaking heat wave in AZ, if it went out when I was outside it was 117 degrees, and 122 inside the car. He set me up with a loaner car because it was Saturday and it was fixed on Monday. I am so grateful, thanks Danny!
S/O to Service advisor Dan and his team! I was on a road trip passing through AZ and I was having issues with my car. Dan and his team took care of my car quickly and efficiently. Def recommend him as he is knowledgeable and has great customer service!
They are very helpful .Great customer service
Bought a part at will call, in and out, easy peasy
At 118 degrees the crv I'm driving alarmed low tire pressure on my way home. I went to a discount Tire at first and was told they dont pump air when it's way too hot in the valley. I decided to drive to Arrowhead Honda but was closed at the time I arrived. A guy named Chris (Flaro) was the only one there and I asked him for help, and he went out of his way to help me out with the tires and even calibrate the alarm. Thank you for going above and beyond, Chris! May God bless you always!

Serving Arizona For Over
25 Years!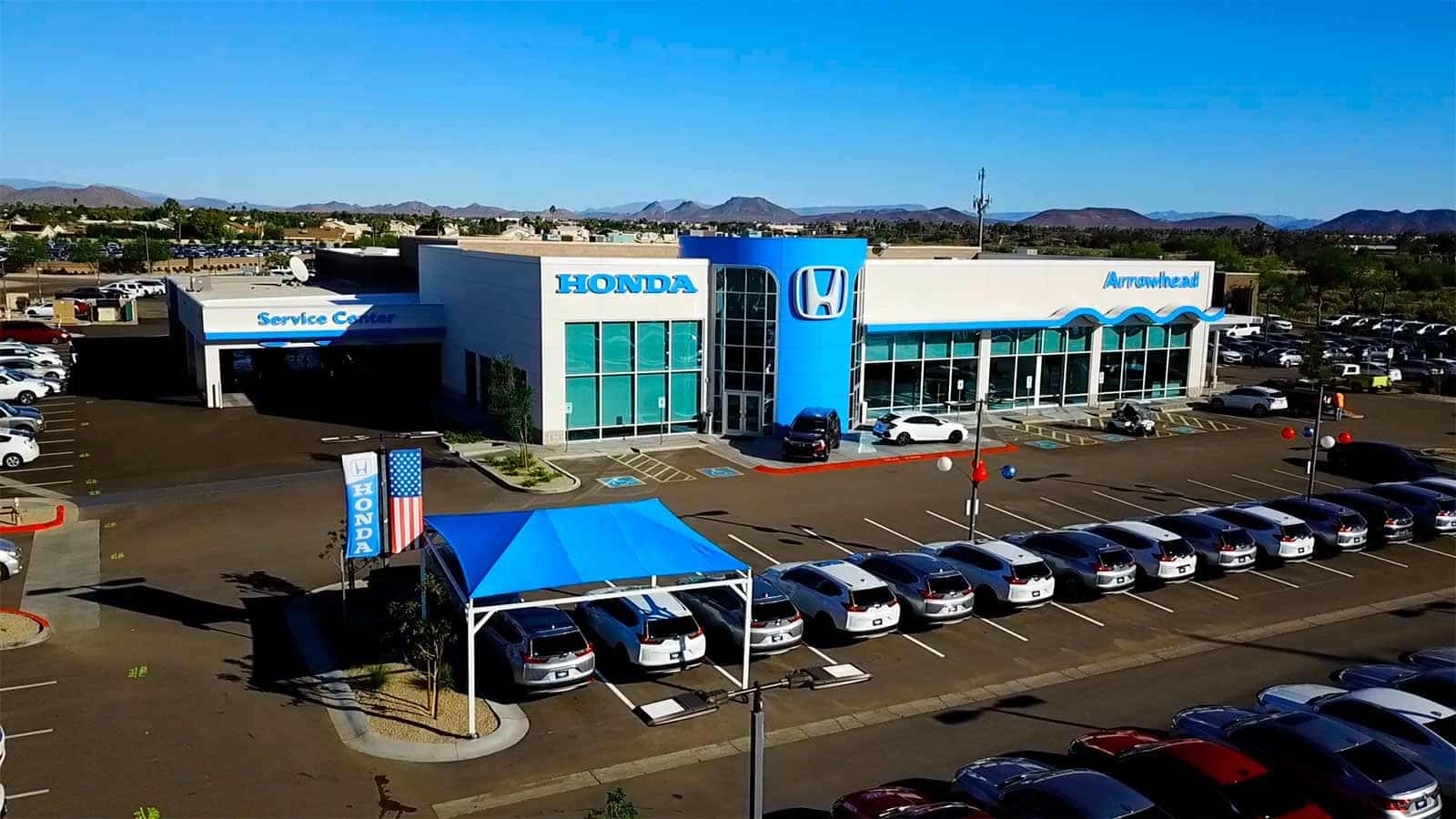 Welcome to Arrowhead Honda
In our showroom, you will find the complete lineup of new Honda vehicles. There are options for every driver, each backed by Honda's reputation for quality and reliability. We also have an extensive inventory of used vehicles that are carefully inspected for quality and priced to help you save thousands. Buying the one you want is easy thanks to our accommodating financing process. If all you need is official Honda parts and accessories, we can also help with that, too.
Make your way to Arrowhead Honda in Peoria today for quality vehicles, a friendly team, and professional service at every step of the way. And if you have any questions for us, you can always get in touch at .
Schedule Honda Service in Peoria
When your vehicle needs service, check out our Honda service department in Peoria. Our service technicians are certified and we carry only genuine OEM parts and accessories. Our easy online service appointment scheduling makes it easy to bring your vehicle to Arrowhead Honda for service with hours that work for your schedule. We also offer service and parts specials to help you save money. Schedule your service today!
623-815-2030
Get Directions To Arrowhead Honda