Steps to Leasing a Honda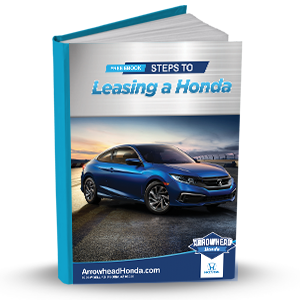 From family-friendly minivans to sporty sedans to versatile SUVs, Honda offers a great lineup of vehicles that are designed to deliver reliable performance for a long time. What if you're interested in switching up what you're driving every few years though? That's where leasing comes in.
To help drivers in Peoria, Glendale, and Sun City learn more about leasing, Arrowhead Honda put this FREE eBook together on Steps to Leasing a Honda. We'll dive into lots of information about the process and how you can prepare for it, including:
Deciding If Leasing Is Right For You
Steps to Take Before Signing A Lease
What To Look For In Lease Deals
How To Negotiate A Better Lease Deal
By exploring what it takes to get ready and negotiate a lease that works for you, we hope to help you get a better rate. So, to get started, download our eBook on Steps to Leasing a Honda. Then, if you decide that leasing is for you, visit us at Arrowhead Honda to discuss lease deals near Phoenix, West Valley, and Surprise.