Honda Tire Road Hazard Warranty

Tires are built to be tough. They carry you over thousands of miles and help you stop safely and grip the road in any conditions. So, when you need tire service, it helps to have some one you can turn to. To help drivers in Glendale, Peoria, and Sun City when you need tire service, Arrowhead Honda offers the Road Hazard Warranty.  Schedule a service appointment today to get started!
Warranty Benefits
The Honda Tire Road Hazard Program now has a more comprehensive warranty that offers drivers more coverage and assistance with all tire related issues.
For starters, reliable coverage is provided by Nation Safe Drivers (NSD). They've been working with insurance companies as one of the largest suppliers of supplemental auto parts since 1962.
In addition to having a trusted partner, the program is also affordable and convenient. There's complete coverage for up to $599. This useful perk is offered on all new Honda vehicles and provides you with 100% coverage with no proration for a full 24 months.
This includes service you can rely on in the field too. You'll get complete roadside assistance for services like changing a flat tire, giving your battery a jump, helping drivers who are locked out, filling up if your car is out of gas, and towing you to the nearest service center.
Plus, things are easier than ever online. All paper claims have been replaced. Claims are now both submitted and paid online. Every claim, invoice, and receipt is filed electronically and will be available online, so you can check your records or see the status of your claim.  Contact our service center for more information!
Honda Tire Center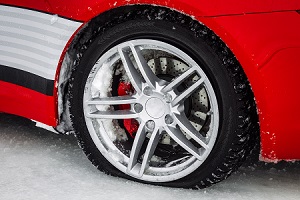 This policy and its helpful benefits come directly from our authorized Honda Tire Center. We're proud to have this facility and its expansive inventory on site, so we can help you get back on the road with tires that are the right fit.
We'll be able to patch, rotate, or replace your tires for you, as well as inspect the tread and its air levels. It's all part of our goal to help you stop and slow down safely every time on tires that can effectively grip the road.
Visit Our Honda Service Center
Visit the service center at Arrowhead Honda to learn more about the new Road Hazard Warranty Program and how our team can help you. Our service center features a team of factory-trained and -certified Honda technicians who can take care of all your tire service and maintenance.
They're trained in performing routine tire rotations, as well as repairing and replacing tires for drivers all over Phoenix, West Valley, and Surprise. If you want your tires inspected or changed, or you think your vehicle needs maintenance or service, schedule an appointment with our team online. To learn more about the program, contact us or stop by sometime.